Meet Our Leadership Team
Red River's greatest asset has always been our people. They're at the core of our company and exemplify our values of purpose, integrity, collaboration, creativity, philanthropy and a strong work ethic. With this experienced leadership team in place, we are able to grow as an organization and better fulfill our mission of making a positive impact on citizens, soldiers, consumers and employees. It's why we're in a solid position to help our customers achieve success.
---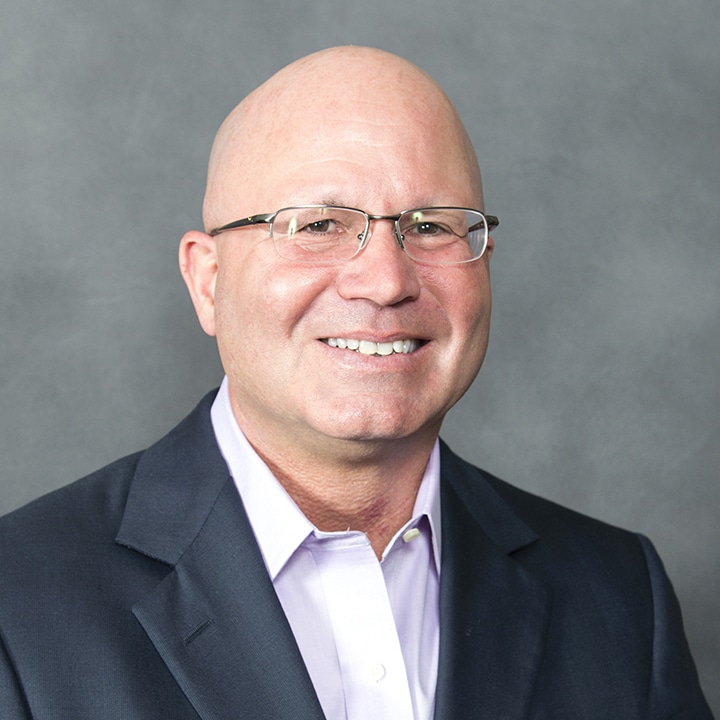 Rick Bolduc
Executive Chairman, Board of Directors
As Executive Chair of the Board of Directors, Rick Bolduc is continuing to drive our inorganic growth strategy by looking for companies that can strengthen our organization, add to our capabilities, expand our geographic footprint and bring smart, innovative members to our team.
Rick joined Red River at its inception in 1995 as Controller and has advanced through the successful start-up's leadership team over the past two decades, becoming CFO in 1997 and taking the helm as CEO in 1999. Under his corporate leadership, Red River has grown at an average annual rate of 23 percent over the past 19 years and has significantly expanded its list of strategic partners. Mr. Bolduc has amassed more than 30 years of varied experience during his career, including accounting, auditing and business review for Fortune 500 corporations, business management, human resources and strategic growth analysis for SMB and mid-market companies. Prior to joining Red River, he worked with United Dominion Industries, Ltd., Whitman Communication Group and Luminescent Systems, Inc. Bolduc holds a Top Secret Security Clearance and a Bachelor of Science in Political Science with a concentration in Accounting and Business Management and minor in Economics from the University of Vermont.
Jeff Sessions
CEO
As the Chief Executive Officer (CEO), Jeff is shaping our organic growth, ensuring that Red River remains the best company to work for with the sharpest, most passionate employees we can find.
Jeff determines the company's go-to-market strategies and aligns business divisions to drive corporate synergy, innovation and growth. Sessions is a hands-on executive intimately involved with every customer-facing aspect of Red River. Sessions has created a collaborative culture that inspires employees to demand more from themselves and influence Red River's direction and success. Sessions' strong personal contributions and corporate leadership drive Red River's exponential growth. In the past five years, Red River's revenue has increased 140%. Rooted in the belief that that Red River grows stronger through outreach and philanthropy, Sessions has led philanthropic outreach initiatives across the country and particularly proud when Red River was named Dell's 2015 Philanthropic Partner of the Year. Over the course of his career, Sessions has held multiple executive leadership roles within Red River and leading IT companies.
Dan McGee
Chief Operations Officer
As Chief Operations Officer (COO), Dan McGee oversees Business and Technical Operations, Sales Operations, Human Resources and our Services organization. He also helped build and evolve the Red River Charitable Foundation – expanding its reach and impact with students and veterans.
Formerly President of Operations, Dan joined Red River in 1997 as an Account Manager. He was responsible for identifying, driving, and closing business with federal government customers. Dan became a member of the Red River management team in 2001 where he has since served in a variety of roles focused primarily on sales and operational leadership before being named President of Operations in 2016. Prior to Red River, he worked in the financial services industry at SNL Financial in Hoboken, NJ. Dan is a volunteer hockey and soccer coach and has served on several Boards including the Carter Community Building Association, the Red River Charitable Foundation and Mascoma Savings Bank. He is a graduate of Bates College (1996) where he majored in Economics.
Alan Dumas
Chief Revenue Officer
Our Chief Revenue Officer (CRO) is Alan Dumas, formerly President of Commercial and SLED.  Alan oversees our federal and commercial sales teams, support services, partner alliances, business development and our sales engineering, and focus on building and refining efficient go-to-market strategies that put the customer first. 
Alan most recently served as CEO of Accunet, a company he founded and led for more than 19 years before being acquired by Red River last year. Alan led the company to $70M in annual revenue before being acquired by Red River. Before starting Accunet in 1997, Alan was the VP of Sales at Vertex, a NY headquartered publicly traded solution provider. He holds a Bachelor's Degree from Furman University.
Paul Krein
Chief Technology Officer
As Chief Technology Officer (CTO), Paul Krein provides leadership for driving the strategy and growth of Red River's solutions portfolio. His overall focus is to identify and develop new solutions to meet the rapidly changing needs of our customers – and helping reimagine the possibilities of technology.
Paul, who most recently served Red River as VP of Digital & Cloud Solutions, has a breadth of cross-industry experience ranging from high-tech and telecom to Public Sector, Financial Services and Manufacturing. During his more than eight-year run at Deloitte Consulting, LLP, serving Federal, Technology and Defense Industrial Base clients, Krein built and led their Federal Cloud team, the Federal Office of the CTO and the CIO Advisory Council. Before Red River, Krein managed Deloitte's Federal Cloud Strategy, marketing, cross organizational alignment and readiness for Cloud Services. Mr. Krein holds a Bachelor of Science in Electrical Engineer with a minor in Economics Management and an MBA, both from University of Rochester.
Jeff Snider
EVP, Capture & Corporate Strategy
As VP of Strategy Development, Jeff leads the organization in the pursuit of new strategic vehicles, as well as the management strategy for our contract portfolio. Additionally, Jeff is responsible for our contract service center and our financial modeling strategies for helping our customers creatively solve financial challenges and mandates such as As-a-Service models (like VA SOD and Navy DCAO Cloud).
Jim Connal
VP, Contracts & Compliance
Jim Connal, VP of Contracts and Compliance, has been with Red River for 12 years during which he has guided Red River to a sophisticated and comprehensive Compliance Program.
Ed Levens
VP, Marketing
VP of Marketing, Ed Levens, leads Red River's marketing efforts including managing the National Sales Conference. He has 20+ years of strategic corporate communications, public relations and marketing expertise, and continues to evolve how we promote our brand and how we communicate both internally and externally.
Bill Sailer
Director, Finance
A nine-year Red River veteran, Bill monitors our finances and provides strategic financial, supporting our organization through accounting, supply chain, and financial planning and analytics.  Bill is a key player in both our organic and acquisitions growth strategy and leads the merger and acquisition due diligence necessary for peace of mind as we invest in the future.